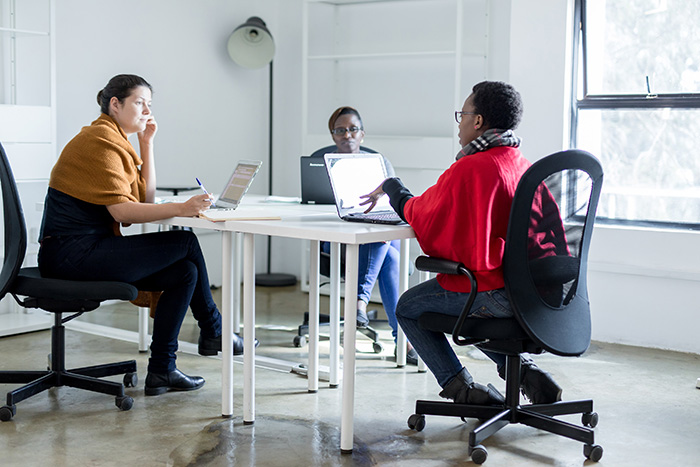 For Africa's tech scene to truly thrive in the 21st century, it needs to quickly develop local digital skills and expertise. Find out how Liquid Intelligent Technologies and its partners are helping Africa's young population to learn, experiment and master emerging technologies.
2018 was a record-breaking year for African start-ups. Total startup funding in the region almost quadrupled – with African startups raising a record $725.6 million across 458 deals, according to an investment report by WeeTracker.
The future is looking bright for African tech but it rests in the hands of a young population that need greater access to resources and training. That's why in 2017, Liquid Intelligent Technologies decided to launch its Innovation Partnerships initiative – in order to find new ways to support the growth of digital technology innovation across Africa.
The initiative began by partnering with major tech hubs across our fibre footprint and connecting them with free high-speed broadband. "Through our partnerships we can now reach almost 200 innovation hubs, connecting over 250,000 individuals and over 10,000 startups across the continent. Using our network, we bring together hubs all the way from 'Cape to Cairo' – generating many success stories along the way," says Oswald Jumira, Head of Innovation Partnerships at Liquid Intelligent Technologies.
The initiative then began to look at how to support this network of hubs with digital skills training and workshops. "For example, we launched a programme called Go Cloud to raise awareness, adoption and usage of Microsoft Azure Cloud across Africa. This has provided some 200 startups with access to a wide range of cloud-based products and services that they can use to develop their products and businesses," says Jumira.
"We also delivered a masterclass for 45 young techies on data science and Artificial Intelligence (AI) at one of our longest-standing partner hubs, Nairobi Garage, as part of GIZ's Make-IT in Africa programme."
Facilitating online learning
Looking to strengthen its support for young entrepreneurs further, Liquid Intelligent Technologies launched an online learning platform to help the continent's students, developer and start-ups gain the tech skills they'll need in the 21st century. The 21CSkills platform offers a range of online accredited courses in key emerging technologies, such as data science, AI, Machine
Learning (ML), Internet of Things (IoT), cloud and game development.
Since the platform launched late last year, over 500 students from more than 7 countries have enrolled on the course. "21CSkills has been built for the African tech enthusiast. From students looking to build upon their university degrees through to professionals looking for a qualification, we have a real mix of users on the platform," says Helinna Ayalew, Head
of Digital Education at Liquid Intelligent Technologies.
As well as providing access to valuable learning content, the 21CSkills platform helps bring together like-minded enthusiasts and learners. Data scientists, gamers and web and app developers are encouraged to form communities on the platform where they can share tips and code. "They can come together and discuss any hurdles they are having on their journey," says Ayalew.
Learning together
21CSkills is also currently being used to train data scientist students participating in the DataHack4FI competition. Now in its third year, the start-up competition encourages entrants to use the power of data science to develop solutions that can improve financial inclusion. "We are training students across Africa using our platform to go from data
enthusiasts to data scientists," says Ayalew.
The competition has already delivered some innovative solutions using data and data analytics. Last season's winner, for instance, used supervised and unsupervised machine-learning models that analyse both internal and external data sources to predict the likelihood of a boda-boda driver claiming for a high-risk event. This year, the event
organiser's Insight 2 Impact (i2i) are adopting a new approach by asking entrants to first complete Microsoft's Professional Program in data science using the 21CSkills platform.
"It is a great introduction to data science that also provides students with the basics in machine learning," says Dumisani Dube, Application Lab Head at i2i.
Entrants in the Datahack4FI competition have enrolled on the data science course across seven countries – Nigeria, Ghana, Rwanda, Uganda, Kenya, Zambia and South Africa – where they have also formed study groups. Dube has been encouraged by the response so far: "In
the first three months, we had 374 enrolling in at least one course and of those, we had 168 completing 10 courses. This really demonstrates the passion and interest in data science".
Students have access to a range of support structures while completing the online course. Meetups have been held by i2i and Liquid Intelligent Technologies in all seven countries, enabling students to engage directly with data science experts. The students also interact and collaborate through a Facebook group and a Slack channel. "As well as practical and technical questions
about the course, there has been a lot of philosophical discussions on what is the right path to becoming a data scientist," says Dube.
Once completing the data science course, students will then be connected with emerging tech businesses who they will work with during the Datahack4FI competition. The competition was launched in April, with the grand final taking place in Kigali in August. "The end goal is to create sustainable data scientist communities across sub-Saharan countries. When they complete the course, we want them to be able to find good job opportunities across the region," says Dube. "We are hoping that if this 21CSkills pilot goes well then we can expand it into more markets and help equip more people with the technical skills they
need."
Healthy competition in data science
Liquid Intelligent Technologies is also helping to develop data science skills in the region through its partnership with Zindi. With over 2000 registered users, Zindi has built Africa's largest online community of data scientists.
The platform encourages data science enthusiasts to participate in online competitions where they can access real-life data sets in order to deliver innovative solutions to solve some of the continent's most pressing challenges. For example, one of the competitions on the platform – co-sponsored sponsored by Uber – challenged data scientists to optimise public transportation in Nairobi.
"The nice thing about Zindi is that we serve a broad range of data scientists – from beginners who are testing data science for the first time to expert level data scientists. All types of different users are coming together on the platform," says Celina Lee, CEO at Zindi.
Since its launch in October 2018, a total of nine competitions have been held on the platform with over $30,000 in cash prizes being awarded to data scientists. "For beginners, it's about getting that exposure to real-life problems and data sets for the first time. We've been given feedback from university students who tell us that they often work with very sanitised data sets in the classroom. But with Zindi, the data sets are the same as you find
when you work in the field," says Lee. "Then we are also attracting professional data scientists to the platform through our attractive prizes and competition hosts. Uber, for example, is interested in meeting the winners of their competition. The data scientists are viewing Zindi as a potential career opportunity."
Lee says that it is important Zindi continues to grow its "community vibe" – offering data scientists a platform to ask questions and share information and code. "On our discussion boards, members are sharing their GitHub accounts and cross learning from one another," she says.
One of the newest challenges hosted on Zindi looks at developing solutions for recognising crops using satellite images. Liquid Intelligent Technologies is supporting this challenge by providing Azure credits for entrants in the competition to help them process the large amount of data. "An interesting trend is that most users of the platform are self-taught. Data science is a new field and not many degrees are available on the subject," says Lee. "Essentially people are learning data science skills through online courses and platforms like Zindi. And while a lot of work needs be done to improve skills in the region, there is a huge amount of opportunity for people to now move into data science and gain experience in the field."