Partnership will deliver high-speed broadband access in Sudan for the first time.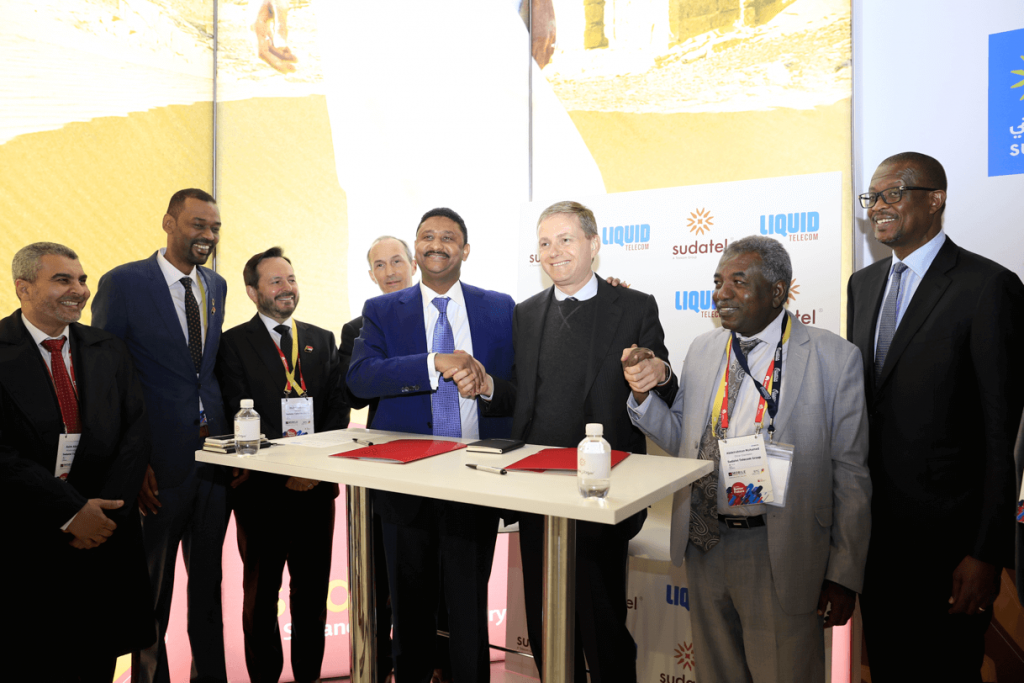 Today at the annual Mobile World Congress in Barcelona, Sudatel Telecom Group and Liquid Intelligent Technologies signed a memorandum of understanding (MoU) to build new FTTH networks across Sudan.
The MoU was signed by Eng. Tarig Hamza Zain Alabdeen, CEO of Sudatel Telecom Group, and Nic Rudnick, Liquid Intelligent Technologies Group CEO, in the presence of Dr Abdul Rahman Dirar, Chairman of the Board of Directors at Sudatel Telecom Group and Sudan's State Minister at the Ministry of Finance and National Economy, Dr. Tahani Abdullah, Sudan's Minister of Communications and Information Technology, Sam Nkusi, East Africa Chairman of Liquid Intelligent Technologies, and David Eurin, Group Chief Strategy Officer of Liquid Intelligent Technologies.
The partnership will increase the broadband capacity and speeds available to homes and businesses in Sudan, which are currently reliant on wireless networks to access the internet.
Leveraging Liquid Intelligent Technologies's extensive experience in deploying high-speed networks, Sudatel will build FTTH networks in Sudan designed to the highest network standards and using the latest technologies.
Comparable to similar networks deployed in Zimbabwe, Zambia, Kenya and Rwanda by Liquid Intelligent Technologies, the new FTTH networks will deliver speeds initially up to 100Mbps. This is expected to transform the way Sudanese businesses and consumers experience and use the internet.
Strive Masiyiwa, Founder and Executive Chairman of Econet, declared: "This partnership between Sudatel and Liquid Intelligent Technologies paves the way to further expand the penetration of broadband services across Africa, transforming the way people live, learn and work."
Tarig Hamza Zain El Abdein, CEO of Sudatel Telecom Group, said: "Our partnership with Liquid Intelligent Technologies will enable us to provide a high-quality FTTH network which will help uplift people's lives through our region's economic development. We have a well-framed vision and mission and will continue to work hard to ensure that we maintain our position as one of the most reliable ICT providers in North Africa."
By investing in Sudan's telecoms infrastructure, Sudatel and Liquid Intelligent Technologies will help raise the quality of network services in the country while also increasing competition in the local market.
Liquid Intelligent Technologies has built Africa's largest independent fibre network, spanning over 50,000km in Eastern, Southern and Central Africa, where it is delivering quality and affordable broadband to homes and businesses through its FTTH services.
Nic Rudnick, Group CEO of Liquid Intelligent Technologies, said: "Liquid Intelligent Technologies has a proven track record of bringing world-class fibre networks to previously underserved regions of Africa. We are delighted to support Sudatel with its efforts to deliver leading FTTH services to more businesses and consumers in Sudan, which will help grow the country's digital economy."