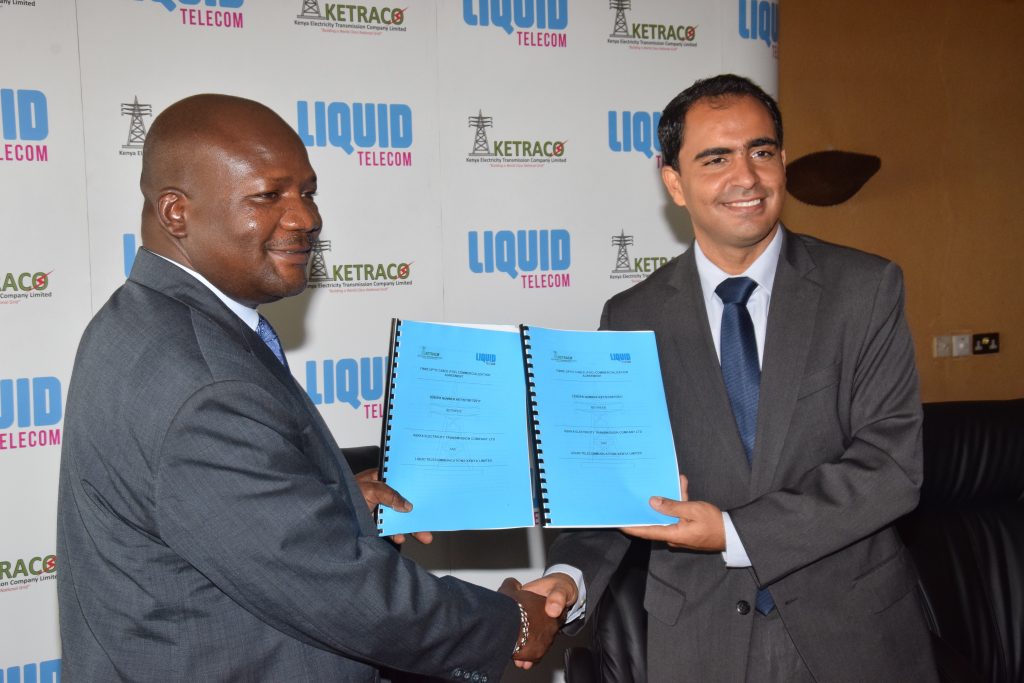 Liquid Intelligent Technologies Kenya has today announced a 10-year partnership with Kenya Electricity Transmission Company Limited (KETRACO) to operate KETRACO's Optical Ground Wire (OPGW) fibre cable and expand the internet network across East Africa.
The partnership will begin by upgrading fibre connections to Kenyan areas already connected to the national grid with high voltage lines of 132kV and above, which include Garissa, Isiolo, Garsen, Lamu, Rabai, Namanga, Meru, Machakos, Makueni, Wote, Sultan Hamud, Mwingi, Konza, Kitale, Eldoret, Kisii and Kisumu.
It will then extend fibre connections to remote areas of Kenya and neighboring countries like Ethiopia, South Sudan, Uganda, Tanzania, Rwanda, Eastern Congo and Burundi.
"We are delighted to be doing more than extending power lines. With KETRACO and Liquid Intelligent Technologies coming together, we are now taking fibre to where it has never been before whilst diversifying our company's revenue base," said FCPA Fernandes Barasa, KETRACO's Managing Director.
More countries in East Africa are now moving to leverage their power transmission infrastructure to carry internet data on the earthing cable already used to transmit power regulation data.
KETRACO applied for a Network Facility Provider Tier 2 (NFPT2) license from the Communication Authority of Kenya (CA), which was granted in 2014. Since then, it has developed the specification and run a tender process for the management and development of the combined network, which has now resulted in the 10-year deal with Liquid Intelligent Technologies Kenya.
KETRACO operates as a national long haulier of fibre that Liquid Intelligent Technologies Kenya will now commercialise to meet the rising demand for high-bandwidth, video and internet services for businesses and individual consumers across the country and East African region.
Currently, KETRACO runs a 1,791.5km electricity transmission network within Kenya and by 2020, the company will have completed construction of over 8,000km of high voltage transmission lines with concurrent fibre connectivity. These include the 127km 400kV Kenya – Uganda, the 612km 500kV Ethiopia – Kenya and the 93km 400kV Kenya – Tanzania interconnectors.
"A resilient telecommunications network requires reliable connectivity, and KETRACO's overhead fibre cable is a technology that is far superior to buried fibre or microwave connectivity," said George Kuria, Liquid Intelligent Technologies's Infrastructure Build & Deployment General Manager (East Africa). "This new backbone fibre cable will significantly expand our network and add resilience to our internet connectivity with a limitless capacity to carry any amounts of data bandwidth. We will invest in high-capacity equipment at the terminating points to ensure we achieve the largest data capacity possible and serve the region with the fastest and most stable internet ever achieved in East Africa,"
KETRACO will continue to use 2% of its optical fibre for its own communication – in gathering information about its power systems, the amount of power being carried, meter readings at interchange points, the status of equipment, and alarms and voice communications between KETRACO's power dispatchers and line maintenance crews.
At the same time, Liquid Intelligent Technologies Kenya will install connectivity equipment in all the power terminating points along KETRACO's network, complementing the Internet Service Provider's own underground cable network running from Mombasa to Nairobi and across most major towns in Kenya.
"Liquid Intelligent Technologies Kenya is committed to partnerships across every sector to advance our mission of ensuring we meet the rising demand for high-quality internet in Kenya and the region," said Adil Youssefi, Liquid Intelligent Technologies Kenya's Chief Executive Officer.