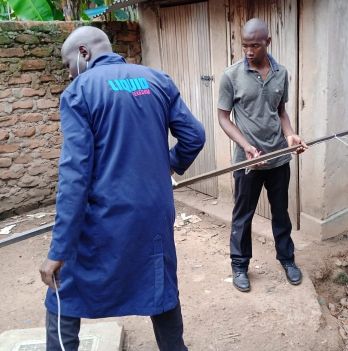 Nairobi – Liquid Intelligent Technologies has connected Kibabii virtual school in Bungoma County to its high capacity fibre network with the latest digital and collaboration tools to enhance remote learning during the COVID-19 pandemic. As schools in Kenya have been closed since 15 March due to the lockdown, about 13 million students in public and private primary education have no option, but to learn from home. Virtual schools with fast internet and tools will help ensure that students remain connected and continue learning, especially important as students prepare for the upcoming Kenya national exams.
Many schools in Kenya are trying their best to maintain the curriculum via remote learning. However, due to the lack of reliable connectivity, a deficit in digital skills and the high cost of mobile data many students rely on radio and TV for their education with no interaction or feedback from the school teachers.
Having been a teaching assistant, Job Wafula Nukhwana empathised with the plight of the students and decided to take action to support them. He founded the Kibabii Online School that promotes remote learning. The virtual school has seen a steep increase in its numbers since Covid-19 outbreak. The school currently offers five lessons per class for the secondary school children and uses qualified and registered teachers to facilitate the sessions. The school was struggling with variable quality 3G mobile broadband which was hampering the overall delivery of remote learning. Despite its rural location, Liquid Intelligent Technologies swiftly connected the school to its expansive and high-speed East Africa Backbone network that connects Uganda to Kenya.
"I would like to thank Liquid Intelligent Technologies for their support. Virtual learning is going to be the 'new normal', and I am excited that this new connectivity and learning tools provided by Liquid Intelligent Technologies will enable Kibabii virtual school to provide quality education to needy children. The learning tools include Microsoft Teams that brings the online classroom alive with live interactions with teachers. Making learning richer and more meaningful for the students. We hope this ongoing collaboration will enable us to fulfil the United Nations Sustainable Goal 4 of providing quality education," said Job Wafula Nukhwana, CEO Kibabii Virtual School.
Ben Roberts, Group Chief Technology and Innovation Officer at Liquid Intelligent Technologies said, "We got to know about Kibabii virtual school from a story I saw on television. Seeing Job Wafula Nukhwana share how he is enabling virtual learning despite slow and expensive data was inspiring. Liquid Intelligent Technologies has an expansive fibre network across the country and connected Kibabii to a fibre link that was very close by. I am excited to note that the school can host more classes, with better speeds and help more students who are adapting to learning from home at this time. We are pushing up our efforts to get more schools connected across the country so that learning continues uninterrupted despite the Covid-19 pandemic. In addition to enhanced connectivity, Liquid Virtual Education http://www.liquid.fyi/education provides students and teachers at Kibabii School with full access on Microsoft Teams and Office 365 Education helping to ensure continued collaboration and learning."
Liquid Intelligent Technologies is also working to help 140 schools in western Kenya to deliver online learning. By enabling them with Microsoft Teams and Office 365 collaboration tools and working with the teachers to help them deploy the tools, and to learn how to use them to teach online classes. Liquid Intelligent Technologies had previously partnered with the USF fund to connect over 300 schools with internet, so that these schools are much more ready to switch to online classes.